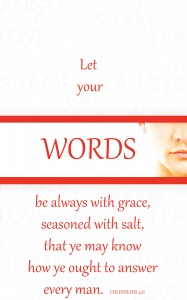 by Dona Hake
Our words can build people up or our words can tear people down. One word has the power to encourage, yet a different word has power to bring a heart down. When I think of people that always seem to speak words with grace I think of those individuals that seem to know how to speak exactly the right thing . They seem to know not only the perfect words but their timing is just as proper. As I looked at Colossians 4:6 , I found two translations very thought provoking.
"Be gracious in your speech.
The goal is to bring out the best in others
in a conversation, not put them down, not cut them out."
The Message
"Everything you say should be kind and
well thought out so that you know
how to answer everyone."
GOD'S WORD Translation
I particularly want to look at the goal of our words being that of bringing out the best in people. There will be times that you will encounter people that do not feel good about themselves. Sometimes this is because of things they might be enduring, they may be feeling low, and not feeling self worth. As we exercise observation of people while you are in conversation you may be surprised how the Lord may provide an opportunity for you to build them up.
Sometimes I see this in little children as I teach them in our preschool class at church. Today when I was teaching I noticed a situation where a child was feeling that they were not doing something as well as the rest. I noticed that she was allowing it to bother her. What I did notice though that she was really doing her best doing our coloring project. When class dismissed I made a point of getting down to her level and making her look me square in the eye. I began to praise her for her job well done and her little eyes lit up like a Christmas tree. She was so focused on what she felt she could not do that her accomplishment went unnoticed. What was interesting was that encouraging words changed her whole countenance.
I believe as we purpose think through and observe people carefully before we speak, we may be surprised how the Lord desires to use our words to build them up. As we couple that with seeing others through God's eyes we too will see them in a different light as well. Let our words be encouraging, full of His grace that we may our words are instruments of good.
Proverbs 18:4 (TLB)
4 A wise man's words express deep streams of thought.
~~~~~♥~~~~~