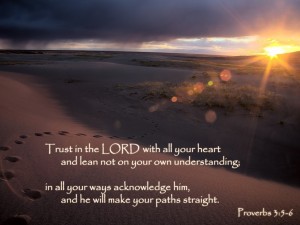 by Dona Hake
Proverbs 3:5-12 (MSG)
"Trust God from the bottom of your heart;
don't try to figure out everything on your own.
Listen for God's voice in everything you do, everywhere you go;
he's the one who will keep you on track.
Don't assume that you know it all.
Run to God! Run from evil!"
We live in an age of information and it is readily at our finger tips. In many ways it is so wonderful and time saving how you can get information about almost anything. While this is good it can distract us from fully trusting in the Lord. Sometimes we can be tempted to pick and choose what we think is the right thing to do and it may not be what He desires for you.
As the scripture says we need to trust Him from the bottom of our hearts and stop trying to figure everything out. Many times God has a totally different route He desires to take you and you need to be willing to walk in the direction He has chosen.
I think there is a key word that God wants us to keep before us and that is the word HUMILITY. As we stay humble, we will be thankful for the knowledge, gifts and talents He has blessed us with but we will keep them in their proper place. As we remain humble, we will always be looking to acknowledge His ways in everything that we do. He can indeed teach us to trust Him with all of our hearts and He will make those places that have seem crooked and confusing completely straight.
~~~~~♥~~~~~