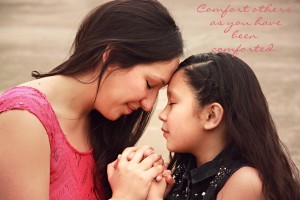 by Dona Hake
Have you ever felt to be in a hopeless situation and there seemed to be no turn around for the problem you were walking through? Have you ever had someone speak a word of comfort to you in the midst of a hopeless situation, and all of the sudden a spark of hope ignited in your heart. It is the most wonderful thing ever! There is great power in words of comfort and we should never underestimate the power of a few words spoken that could potentially give someone fresh hope and strength.
I cannot tell you how many people have shared with me how they struggle with inadequacy with words especially when someone has lost a loved one. I have always shared to just be there for the person and the Lord will put the words on your heart to speak. Let us desire to be used as vessels of comfort in times of such need.
2 Corinthians 1:3-5 (TLB)
"What a wonderful God we have—he is the Father of our Lord Jesus Christ, the source of every mercy, and the one who so wonderfully comforts and strengthens us in our hardships and trials. And why does he do this? So that when others are troubled, needing our sympathy and encouragement, we can pass on to them this same help and comfort God has given us. You can be sure that the more we undergo sufferings for Christ, the more he will shower us with his comfort and encouragement.
I encourage you today to think upon the times in which the Lord so graciously permeated your heart with comfort. Let us be ever so thankful that we can draw upon Him for comfort and strength, and when opportunity arises in which you see someone hurting and your heart is touched…allow Him to touch that person through you.
~~~~~♥~~~~~