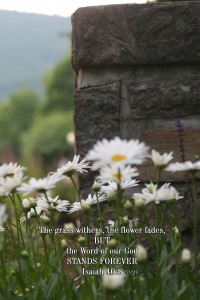 by Dona Hake
By the end of this summer I can say I have never seen my front garden ever look so beautiful. Every week I would pull up in front of my house with our granddaughters the four year old would exclaim, "Grandma, your flowers!!!! They are so awesome!" About five weeks ago one flower after another began to fade and die. Little by little I was uprooting them to prepare the garden for its winter sleep.
I can remember thinking and pondering how am I was going to explain to her the day we pull up in front of the house and the will all be gone. Every opportunity I had I would bring up the subject on a positive note. I would tell her that flowers just cannot stand the "shivery brrrrrrrrrrrrrr"cold but when spring comes we will plant more. I would remind her that the winter will soon come which brings a whole different beauty and fun. Snowmen, snow angels and sledding. This always brought a delightful smile to her face.
I can still remember the morning she saw that all my flowers were gone. Her eyes so sad yet she seem accepting and now we look forward to the new season of winter. I have shared with her how God has blessed us with so much beauty in His seasons and we have to accept their change and leaving us.
One thing we can be assured of is that even though things change here on earth during our stay, God's Word never changes.
Isaiah 40:8 (The Message)
"True, the grass withers and the wildflowers fade,
but our God's Word stands firm and forever."
I am thinking and thanking God that He remains the same yesterday, today, and forever and His Word stands firm and forever. What an assurance this brings to my heart! God is so good.
~~~~~ ♥ ~~~~~