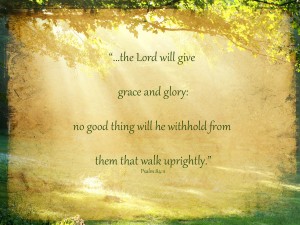 by Dona Hake
Psalm 84:11 (AKJV) |
" For the Lord God is a sun and shield:
the Lord will give grace and glory:
no good thing will he withhold from them that walk uprightly."
As we walk uprightly before the Lord our God there should be expectation in our heart everyday we rise. No matter what we face and how "dreary" our day may be, we can expect the Lord God to be our Sun and our Shield!
I am thanking Him today that He has promised that He will never withhold any good thing from me because all good and perfect gifts proceed from Him. He will not refrain from giving me that which I need to get through my day.
I found it interesting that the antonym for withhold is the word *advance*. Interesting thought isn't it? The more you walk with the Lord you begin to understand more and more that He always knows exactly what you need and what you are going to face. Therefore His grace is always sufficient and right there for you when you need to draw upon it. Praise God that He is our Sun and our Shield, the God who is pouring out His grace and glory to all that walk uprightly before Him!
~~~~~♥~~~~~