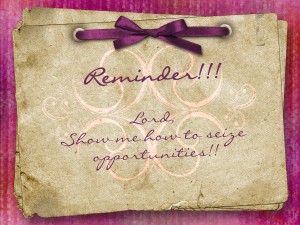 by Dona Hake
Each day we awaken let us remember that our day is a gift to us from the Lord. Let us thank Him for that and let us be mindful to be wise with our time.
Psalm 90:12 (CEV)
"Teach us to use wisely all the time we have."
I love my "To do" lists and I love my post it notes! God knows I need them because it just keeps me on schedule and I feel like I am getting the most our of each twenty four hours in a day. We all have those days where the "To do" lists go up in smoke but at least you tried! The Lord can help us flow with those days as we keep our hearts at peace and rest in Him.
Many times our schedules may be interrupted with wonderful opportunities to help someone. It depends how you view it. For me it always seems that if I keep my heart right that those type interruptions are such a blessing. It almost seems like my time becomes multiplied.
Ephesians 5:16-17
Amplified Bible (AMP)
"Making the very most of the time [buying up each opportunity]…"
I encourage you to seek Him on how to squeeze all you can out of your God given time. Love every minute of your life. I love this scripture because it makes me feel like our time given to us is so very valuable. We should treasure it as we do our money. Use it wisely, plan your time wisely, and think about how you can buy some opportunities to bless someone and be used by Him!
~~~~~♥~~~~~