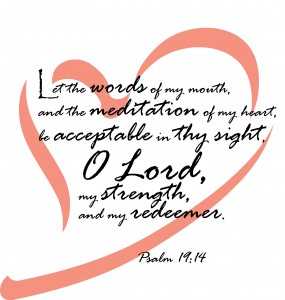 by Dona Hake
Psalm 19:14 (TLB)
"May my spoken words and unspoken thoughts
be pleasing even to you,
O Lord my Rock and my Redeemer."
I think that we cannot pray this prayer too many times. Oh that we would ask the Lord more often, "Is what I just said okay Lord?" or "Lord Is my heart right in this matter? I think Jesus wants us to view Him as our best friend and we should be allowing our best friend to challenge our heart and bring accountability in our lives. Truth is if we would check in with Him more often we could really avoid a lot of problems in our life.
Really when you think about it, it is the unspoken thoughts that are not dealt with that will eventually get us into trouble with loved ones and friends or those in the work place. Let us remember the next time a thought comes that you are not too sure of to stop and ask Him. "Lord, I need some direction here because I do not know if my thinking is correct on this matter." Fill my mind with Your thoughts that I be not offensive and hurtful to those that I love. Please give me the wisdom that I really need right now."
The Lord has promised to help us with all things that pertain to life and godliness so be encouraged that it is His heart to help you walk victoriously in this life.
~~~~~♥~~~~~