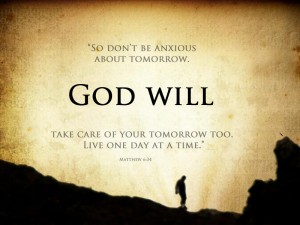 by Dona Hake
I love the quote "Worry often gives a small thing a big shadow." It is so true. We can get preoccupied with things, begin to worry, and all of a sudden it is as if a gigantic magnifying glass is on your problem. What is even worse is if you are magnifying something that has not even transpired. You begin to imagine the strangest and most fearful scenarios. It is in those times that we need to stop ourselves and remember Who takes care of us and it is Him that lovingly watches over our every move.
Psalm 139 (The Living Bible)
"O Lord, you have examined my heart and know everything about me. You know when I sit or stand. When far away you know my every thought. You chart the path ahead of me and tell me where to stop and rest. Every moment you know where I am. You know what I am going to say before I even say it. You both precede and follow me and place your hand of blessing on my head."
When we meditate upon the fact that God knows the moment in which we live, the moments we are about to walk into, and the tomorrow that we will face, we can be assured of His care. Let us live in the abundant provisions of His Word and not allow ourselves to robbed of living one day at a time in His presence and in His joy!
I encourage you to share your thoughts on our blog. Please scroll to the bottom of this page and submit!
~~~~~ ♥ ~~~~~