PLEASE NOTE!!!! This is Sunday, May 4th's devotional. I
failed to get the devotional for Saturday, May 3rd sent out until
8:00 pm this evening. If you are looking for Saturday's devotional,
scroll down below this one! Blessings to you!
~~~~~♥~~~~~
"LIVING BY THE GOLDEN RULE"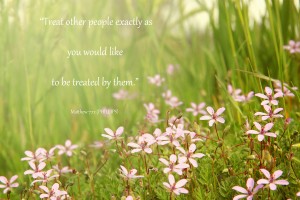 by Dona Hake
Matthew 7:12 (PHILLIPS)
"Treat other people exactly as you would like to be treated by them."
We have heard this referred to as the "Golden Rule" and it truly is golden. It can serve to be exceptionally valuable to us as we exercise it with our loved ones, friends and even strangers that we come in contact with in the course of our day.
How often I see rudeness in the marketplace and I am taken back that people can treat each other so wrong and it just does not seem to bother them. Sad, isn't it??? In the news almost on a regular basis you hear of bullying is schools. Students treating a student cruelly and unfairly for some reason or other. All of this is summed up in the fact that there are those that think it is okay to be mean and hateful and they do not care how their actions are possibly devastating someone.
I believe the Lord desires that we are constantly keeping our hearts in check that we are treating people lovingly just as He has commanded us. This love is not dictated by the behavior of others nor is it dictated by our good days or bad moods. God's love will always treat people right because it is unconditional. He wants us to think before we act and He desires we ask ourselves, "How would I want to be treated in this particular situation?" The old saying "Unless you have walked a mile in another's shoes, do not judge them." There may be times someone is not being nice because they really are preoccupied with something so big and they feel like their world is coming to an end.
In this life that we will encounter treatment that is unfair or unkind but let us ask Him to see people through His eyes. As Jesus hung on the cross dying for us, He lovingly looked down as His whole body was screaming with pain and said, "Father, forgive them for they know not what they do." This is the kind of love that will always help us to see everyone around us through His lovingkindness and tender mercies. He is well able to help us even with the most difficult people. Yes, He IS well able to use you to show His love in great ways!
~~~~~♥~~~~~