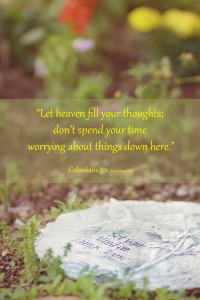 by Dona Hake
I went out to my front garden this morning to photograph a stepping stone that lays in my garden…spring, winter, summer and fall. It is old and not very pretty anymore, but the words always minister to me. This stepping stone serves to remind me of a very important truth. It says,
"Set your mind on things above."
Yesterday was the first opportunity I had to get down on my knees in my garden and as much as I would like to say I was praying, I was not! Weeds all over the place and they are just flourishing. My attitude was to just get as much done as I could and I am not going to let it get to me. You see, there was something much more important going on by my garden. My granddaughters once again had a blanket laid out with their stuffed animals, books, and baby doll strollers. They were enjoying another breakfast donut picnic. It was precious observing them having fun with their princess crowns on and all their "bling" sparkling in the morning sun and it just made my heart smile.
I am finding that the more I keep my eyes on things above that I enjoy the simple joys even more and things like weeds just do not matter. I kept saying to myself "this will get done when it gets done." Sometimes our hearts can be snagged so easily by things that really do not matter. Of course I want my garden to look pretty but weeds are always going to be. Weeds just remind me of how I need to be diligent over the garden of my heart. The good news is that the more our eyes are on things above, WE WILL be diligent to watch over our hearts. Today I encourage you to look up and also keep an eye on your heart within. Keep check on your heart with the help of God that you are diligent to do what really matters!
Colossians 3:2 (TLB)
"Let heaven fill your thoughts;
don't spend your time worrying about things down here."
~~~~~♥~~~~~