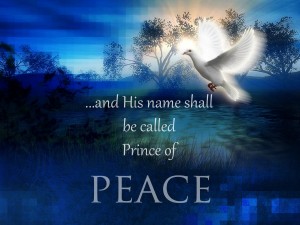 by Dona Hake
I thank God for the peace that His Son Jesus Christ has brought to my heart. I cannot imagine living life without it. In a world full of changes, trouble and turmoil, He promised that He would leave us His peace. He said it would not be peace like the world gives so we know that His peace is not affected by anything we have to walk through. There is no valley to deep or storm so great that His peace cannot endure.

Jesus, the Prince of Peace desires that His peace rule and reign in your heart. He desires that you walk in His peace for His peace passes all human comprehension. When all is falling apart around us, His peace can calm our heart and bring it to rest.
I encourage you today to think about that precious gift of peace that is always there for you. All you have to do is allow it to rule and reign in your heart.
"And let the peace (soul harmony which comes)
from Christ rule (act as umpire continually)
in your hearts [deciding and settling with
finality all questions that arise in your minds…"
Colossians 3:15
~~~~~ ♥ ~~~~~