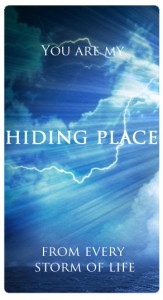 by Dona Hake
Today we will praise Him because we can run to Him when we need to be hidden. We can always run to His place of safety and He has promised to keep us safe in the storms we will face. Sometimes this life can tempt our hearts to be troubled and afraid. In those times of trouble you can know that He will hide you under His wings and keep you safe in the storm.
Psalm 32:7
You are a hiding place for me; You, Lord,
preserve me from trouble, You surround
me with songs and shouts of deliverance.
Selah [pause, and calmly think of that]!
I love this scripture! It causes me to visualize the Lord's strong arm of protection in the worst of storms and even while the storm is trying to rob my peace I can believe that songs and shouts of deliverance are round about me. He knows the outcome and He well understands that He is able to cause us to be victorious!
Psalm 119:114
You are my hiding place and my shield;
I hope in Your word.
As we look at Jesus being our hiding place in the storm, let us also look at Him as being the hope of our soul. He will always keep us anchored in our faith as we continue to hope and abide in His Word. To Him be the glory!!!
~~~~~♥~~~~~