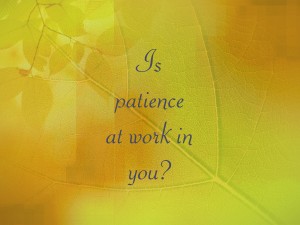 by Dona Hake
I was having a discussion with my oldest Granddaughter a week or so before Christmas. The anticipation was mounting and she was hinting and trying to figure out what and when she was going to receive a particular gift. At one point she kept asking and I just looked at her and I was proceeding to bring up how she needed to be patient. She knew exactly what I was about to say and her response to my look…"I know, I know Grandma! I need to be patient. Sometimes it's just hard!!" I thought to myself, "She's right, it really can be hard to be patient at times!" Nevertheless I exhorted her in remaining patient and that she would be blessed as she did.
We too can feel the same way at times when we are waiting for something that we have released our faith for. Sometimes time seems to take forever doesn't it? I am also reminded of the patience that is developed in the midst of remaining steadfast during a trial. James spoke of us developing our faith in the midst of going through bad things. I have to tell you that this one always puzzled me. I used to think, "How in the world does something good come out of a trial?" I am sure you can agree that sometimes trials can just make you weary and stress your body and mind as well.
James 1:2-3
"Consider it wholly joyful, my brethren, whenever you are enveloped in or encounter trials of any sort or fall into various temptations.
Be assured and understand that the trial and proving of your faith bring out endurance and steadfastness and patience."
I love the part where he is saying "Be assured and understand…" Let us remember that as we know that we are truly in faith and the trials begin to wear us out that we can be assured that the beautiful fruit of patience IS developing within us. As we get through those trials let us also remind ourselves of the testimony within our hearts that we can and have endured by faith in Jesus Christ!
~~~~~♥~~~~~