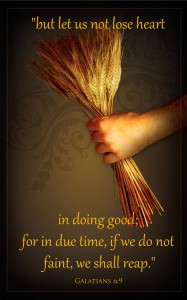 by Dona Hake
I don't know about you but I love when I am doing something and I just know beyond a shadow of a doubt that my heart is in it. I know when I stay focused on God's grace flowing through me that I can do anything He requires me to do. The Word of God says in Galatians that is we do not "lose heart and grow weary" we shall reap.
Galatians 6:9 (AMP)
"And let us not lose heart and grow weary and
faint in acting nobly and doing right, for in due
time and at the appointed season we shall reap,
if we do not loosen and relax our courage and faint."
It is when we lose heart that most of us can identify and will express words like "I just feel like I am going through the motions." It is usually at this time you will be drained in your attempts even to do a good thing. Most certainly at times like these our mind will begin to develop a bad attitude and this is a sure guarantee that the Lord's hand will not be able to bless what we are doing. I think it is always important to remember even when we step out in an attempt to do a good thing by no means gives us the guarantee of smooth sailing.
As we establish in our hearts and mind what the will of the Lord is, we must keep our eyes on Him. It takes courage and strength to persevere in this life and as we continue to focus on that which He has instructed us to do we shall reap!
"And to the rest of you I say, dear brothers,
never be tired of doing right"