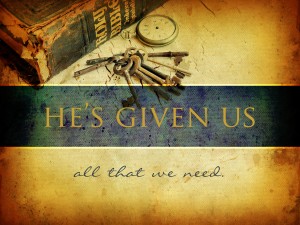 by Dona Hake
Have you ever prepared to travel and you want to make sure that you are packing everything you need. Before a trip I have so many "to do" lists and "things I need to pack" lists as well. I want to flow as efficiently as possible in my time away from home. I am the kind of person that likes to be ready for anything so I probably over pack because of that. Needless to say, it is good to feel that you are properly equipped for your time away from home.
As we spend time on this earth serving the Lord we are on a journey. We must be assured that we are equipped for all that He has for us to do. It is wonderful to know that He has equipped us with everything we need. I love the image I shared today because it ministered to my heart relative to God giving me all that I need. First of all, His Word will keep me full of the knowledge of His will. Any door that I need to walk through whether difficult or not, He has the exact key and He also provides me with His perfect timing and I need to keep my eyes on His watch not my own. It is when we get our eyes off of all that He has provided that our hearts can be tempted to fear.
2 Timothy 1:7 (AMP)
"For God did not give us a spirit of timidity (of cowardice, of craven and
cringing and fawning fear), but [He has given us a spirit] of power and of love
and of calm and well-balanced mind and discipline and self-control."
Let us be reminded today to stay focused on all that He has given us through His love for this very special journey on earth. We can live this life with spirits full of power, love, and calm well balance minds! It is Him that can help us to remain disciplined and self controlled for the God given work He has for us.
~~~~~♥~~~~~