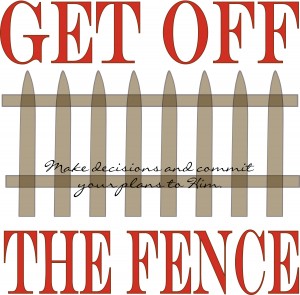 by Dona Hake
"Get off the fence!" is commonly used when you are being indecisive and not wanting to take a side on an issue. Today as I was praying and meditating about this devotion I was thinking how we can also be "on the fence" in areas of our hearts regarding spiritual things. As an example you may know certain truths and you try to apply them yet there are areas that you may struggle with deciding to just be obedient and committing your heart to act them out.
We must establish within us that the Lord wants all of us so He can fully work in us. Yet the the devil will try to keep us spinning our wheels in particular areas of our life to keep us from going full throttle. I think of one particular area where people think they can "back burner" things and that is the area of not forgiving people. They may feel their heart tugged by the Lord to let it go and forgive and then for some reason the individual will find a reason to withhold forgiveness.
With every decision we make toward going forward in the ways of the Lord we must ask Him for His help.
Proverbs 16:3 (EXB)
"Depend on the Lord in whatever you do [Commit your acts/deeds to the Lord],
and your plans will ·succeed [be established]."
Today I encourage you to make good decisions as a result of desiring to please the Lord. Some decisions especially in the area of our obedience to the Word can really challenge our flesh, but trust me, He will enable you to carry out His Word. Entrust your efforts to Him and your good decisions will cause you to flourish in His Kingdom.
~~~~~ ♥ ~~~~~