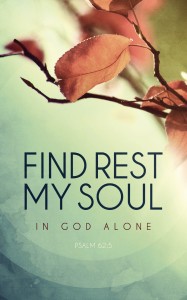 by Dona Hake
Some days we need to remind our souls to find its rest in God. We all have those days in which we are swamped with demands, deadlines and responsibilities that must be taken care of . Honestly, there are days I laugh because I have so many "to do" lists that I really do not know which one to do!
It is so important when you find yourself a bit frazzled to seek out the rest that only comes from God. He is the one that will lead us away from the strong currents of the busyness of our days to His still and restful waters. What is really so awesome is that even in the midst of chaos He can take you to His restful waters and refresh your soul that you can be strengthened to do that which is required of you. I leave you with this awesome translation of Psalm 62:5-6 from the Message.
" God, the one and only—
I'll wait as long as he says.
Everything I hope for comes from him,
so why not?
He's solid rock under my feet,
breathing room for my soul,
An impregnable castle:
I'm set for life."
Think about it…He is like an impregnable castle. Impregnable means strong enough to resist or withstand attack; not to be taken by force, unconquerable. I love this analogy because it helps me realize that the stress of this life does not have to wear me down. I can remain strong inwardly as He helps me deal with all that goes on around me. Let us be reminded that because of this solid Rock that we stand on that we are set for life!
If you would like to share your thoughts on the blog below we would love that!!! Scroll to bottom of page.