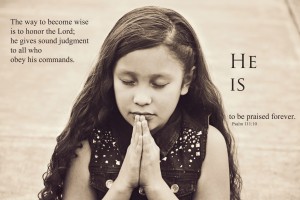 by Dona Hake
Psalm 111:10
"To obey the Lord is the fundamental principle for wise living;
all who carry out his precepts acquire good moral insight.
He will receive praise forever."
In Proverbs 3:5-6 this word admonishes us to trust in Him and lean NOT on our own understanding. This is so hard to do at times. We live in an age where information is so easy to get our hands on. Any information that we need is at our finger tips as we google in our questions and problems on our computers. Quite honestly, I have found the more I know about things sometimes it can actually hinder my faith. The tendency to trust in what man says above what God says about a particular thing can keep you from total trust in Him.
Leaning on God for all that we need is so vital. Sometimes we want so badly to understand things that we are walking through and there are times we put too much focus on figuring things out. I have found that simply obeying Him and knowing that I can trust Him to be in charge of my life keeps it simple enough.
I can remember when one of our sons was a little boy. There was a particular time he was having a very hard time trusting my judgement on a particular thing. I can remember sharing with him that he just needed to respect my judgement and not try to figure it out. I began to share with him that there will times in life that we will face things that we do not understand. I was stressing to him to trust me as a loving mother and authority in his life. As we entrust our lives into the loving care of the Lord, He will in His timing give us understanding and we will learn and grow from situations that we walk through. We just need to trust and obey. God is good all the time…ALL THE TIME God IS good!
~~~~~♥~~~~~