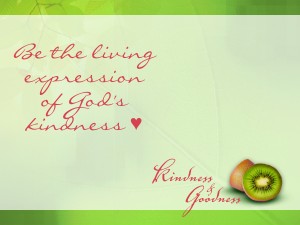 by Dona Hake
I am thinking today about the kindness of the Lord flowing through us. Over the past day or two I have been on the receiving end of people showing me exceptional, sweet deeds of kindness. These kindnesses have come in the midst of some obstacles. Life is full of things that can serve to distract us or they can make us stronger. So let us face them with determination, knowing it is all going to work out. Jesus said that in this life there would be different things for us to walk through yet He said He would be there.
If we open ourselves to His strength and peace in the midst of trials, He said He would be there. If He said He'd be there, then let us make sure that we are observing His presence in the midst of any situation we face. His hand may flow through that which you least expect or He will use people in our life to flow through, and be a help to us. It is such a wonderful thing to have people in your life that are just desiring to be vessels of the Lord! I realized to an even greater degree that kindnesses that comes in our direction can be a refreshment to our soul.
Today I am pondering in my heart how I can be used to be kind to those around me. I want to seek out those opportunities so I can lift someone up! The interesting fact about kind deeds and words is that they cost us not one penny to give. Yes, it may cost our time and energy but as we give, but the Lord is faithful to bless us abundantly. I leave you with this most beautiful quote from a woman that I greatly admire and esteem. Mother Teresa was truly an example of being a vessel of God's love and kindnesses.
"Let no one ever come to you without leaving
better and happier. Be the living expression of
God's kindness: kindness in your face, kindness
in your eyes, kindness in your smile."
— Mother Teresa
~~~~~~♥~~~~~