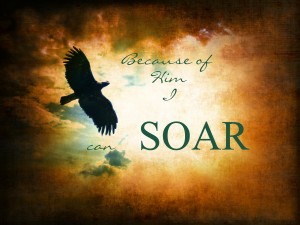 BY DONA HAKE
What a wonderful feeling it is to know that we have been given everything we need to rise above a storm and soar because of His living Word at work in our life. Jesus gave us these words:
"…In the world ye shall have tribulation: but be of good cheer; I
have OVERCOME the world."
Jesus said "Peace I leave with you, MY PEACE I give
unto you: NOT AS THE WORLD GIVETH, give I unto
Many times one's reaction to stress and circumstance is to run and hide. They may try to escape to places thinking that if they just leave their problems they will be refreshed. God desires that we enjoy the beauty of His creation and our favorite quiet places yet if we are not seeking Him in those
quiet places, we will return to the problem. When we return we face dread because we are still not knowing how to cope. God has called us to stand up to big things, not run from them.
These two scriptures remind us that we will have problems in life, but we CAN overcome them and He promises to help us overcome them. It the midst of any problem His peace will be there. As the eye of the eagle is sharp and is able to strongly focus, let us too stay focused on these truths. It is as we do that we will abide in the high places in times of trouble.
~~~~~♥~~~~~