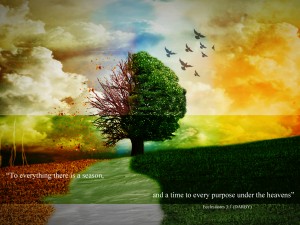 by Dona Hake
I have thoroughly enjoyed sharing with my granddaughters about how the four seasons affect the things around us. For the past year every time I pick them up we pretty much travel the same route, and we began to take notice to a maple tree that stands all alone in the middle of a corn field. At the end of last fall when the corn was harvested and the tree had lost all of it's leaves, I mentioned how the tree looked kind of lonely. Out in the middle of this corn field is standing a tree that once had tons of leaves that turned glorious colors and now it stood naked and all alone.
We named the tree "Mr. Lonely Tree." This tree has turned into a fun and interactive time of teaching the girls about what happens to a tree during the different seasons. One day I said, "Poor Mr. Lonely Tree can hardly wait for spring so he can have his leaves back!" As we would drive by each week I kept telling them that it would not be long that the tree would have so many leaves growing all over it. With the winter that we had it seemed like forever that the tree was going to bear leaves. I can still remember their little faces lighting up when they saw all the beautiful leaves FINALLY adorning the limbs of Mr. Lonely Tree.
Even though I have been sharing these facts with the girls, my heart has also been ministered to as I see this tree standing. It seems that no matter what season it is, Mr. Lonely Tree remains strong. Even though things are constantly changing all around it, the tree just continues to flourish inside and out. Even in the barrenness of the winter, I knew that there were deep things going on in the root system of this tree.
As we continue to abide, thrive and grow in the Lord, we also will go from one season to the next in our lives. Some seasons seem like they are never going to end. Other seasons seems like sand slipping through our fingers. We just wish we could hold on to those moments just a little bit longer. There may be seasons in which you feel you are standing alone yet you have blossomed in great strength as a result of that season which appeared to be a time of barrenness. Let us be reminded that God is the God of perfect timing and we must continue to trust His judgments.
The Lord is calling us to walk through each season of our life and embrace it's purpose. When He chooses to end that chapter, we need to be willing to go forward into the next. With each season He is seasoning us and working deep within us to continue on, His hand is at work even when we feel like nothing is happening around us or inside of us. I encourage you to love and enjoy each God given season of your life,be blessed and know that He who has begun a good work in you is completing it!
Ecclesiastes 3:1 (DARBY)
"To everything there is a season, and a time to every purpose under the heavens."